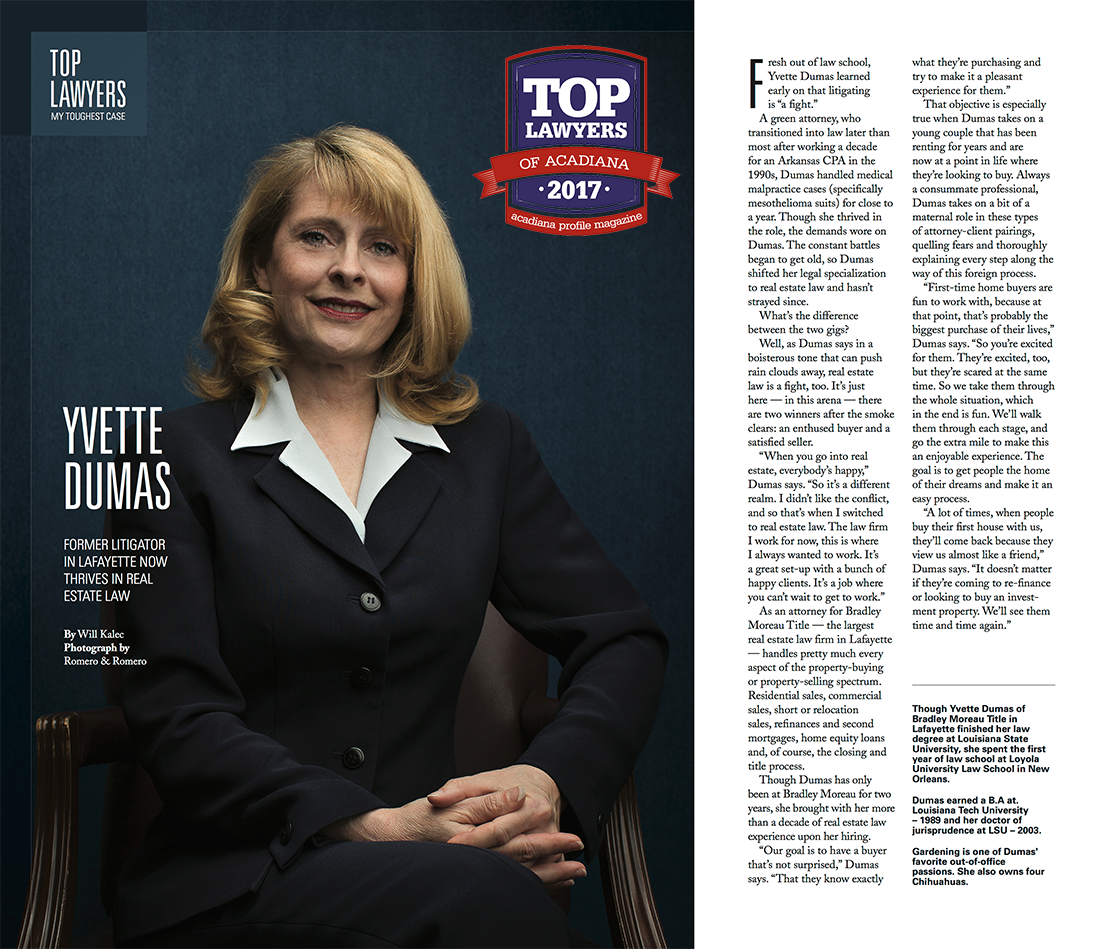 Yvette Dumas, an attorney at Bradley Moreau Title was recently nominated as a Top Lawyer in Acadiana 2017 through Acadiana Profile magazine.  According to the publication, "Each year, Acadiana Profile publishes its Top Lawyers list, along with the stories of compelling cases fought by three of the year's qualifying lawyers. In determining the Top Lawyers of Acadiana we use Professional Research Services, a Detroit-based survey company. The voting for the PRS survey to determine the 2017 top attorneys for Acadiana Profile magazine was open to all licensed attorneys in the Acadiana, Louisiana market area. Each attorney was asked which attorney, other than himself or herself, they would recommend in the Acadiana area. Each attorney was allowed to recommend up to three colleagues in each given legal specialty. Once the online nominations were complete, each nominee was carefully evaluated on the basis of the survey results, the legitimacy of their license and their current standing with the State Bar Association of Louisiana. Attorneys who received the highest number of votes in each category are reflected in the list by legal specialty." (click here to see the list of Top Lawyers)
Yvette has been nominated for the past 3 years by her peers as a Top Lawyer in Acadiana.  In the April / May Issue of Acadiana Profile Magazine she was featured as one of the few attorneys chosen to do a feature on their Toughest Case.  "A green attorney, who transitioned into law later than most after working a decade for an Arkansas CPA in the 1990s, Dumas handled medical malpractice cases (specifically mesothelioma suits) for close to a year. Though she thrived in the role, the demands wore on Dumas. The constant battles began to get old, so Dumas shifted her legal specialization to real estate law and hasn't strayed since.
What's the difference between the two gigs?
Well, as Dumas says in a boisterous tone that can push rain clouds away, real estate law is a fight, too. It's just here — in this arena — there are two winners after the smoke clears: an enthused buyer and a satisfied seller."  (Read the full article Here)