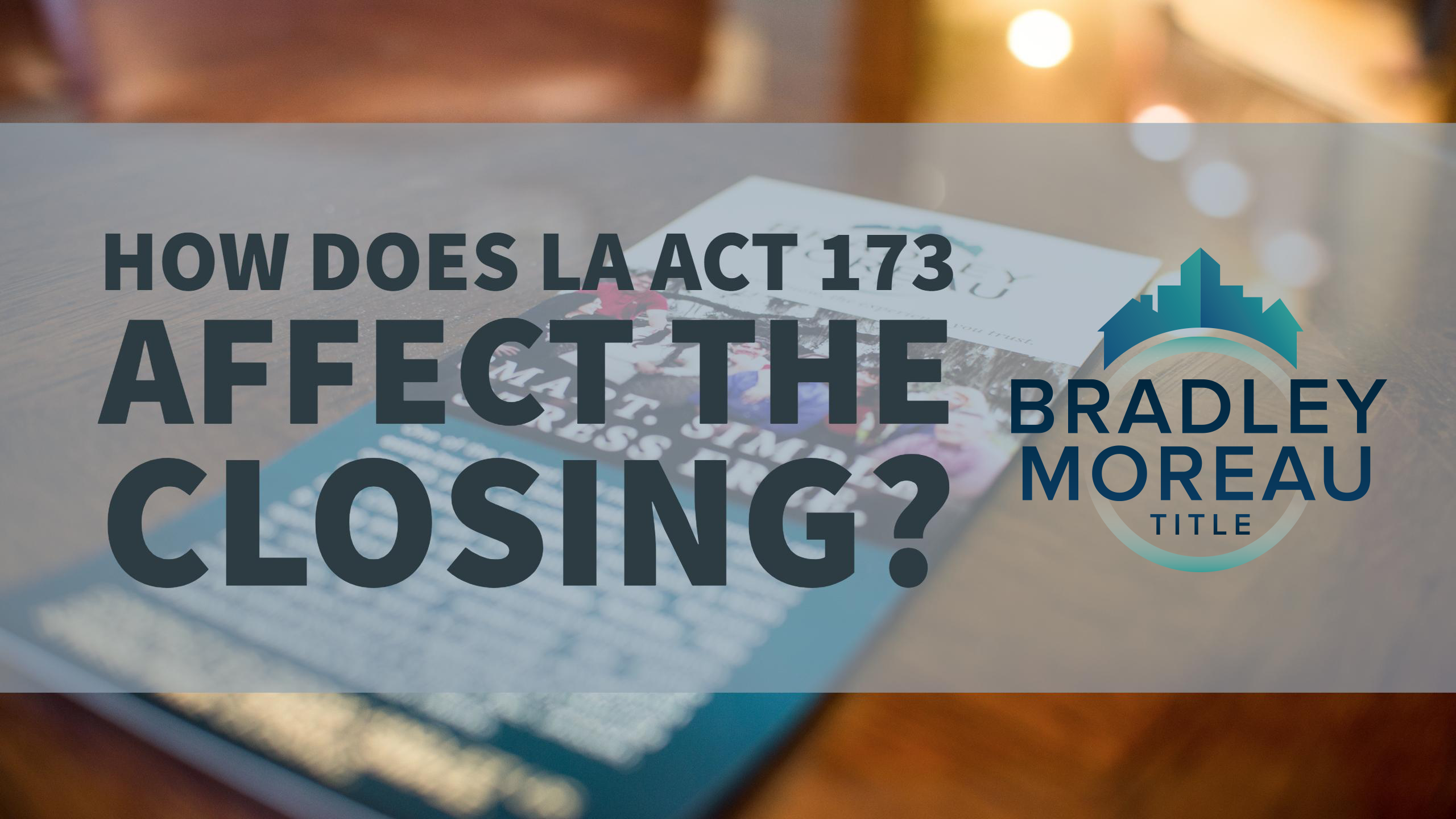 For many years Louisiana Title Attorneys have struggled to properly estimate the recording costs of a closing due to every parish Clerk of Court having their own set of recording fees and standards.  During the Regular Session of the Louisiana Legislature Act 173, focusing on recording fees, was passed and will become effective August 1, 2017.  The Act calls for:
"clerks of court; to provide for fees for services rendered; to provide standards for documents to be recorded; to provide alternate means to maintain copies of recorded documents; to provide indexing standards; to require plans for recording electronic documents; to provide relative to redaction and contents of certain personal information in filings and recordings; and to provide for related matters."  (View Act 173 here)
In short, this bill streamlines the recording costs statewide, in essence, simplifying the recording process and how citizens can get copies of court recorded documents.
For example, presently in Lafayette Parish the recording cost of the first page of a document is $25.00. Each additional page is $10 unless the document is over 10 pages. Then the fee was $8 a page.  In addition to recording documents, to receive a certified copy the fee was $5 per copy. Sound complicated? If you go to Saint Tammany Parish, Calcasieu Parish, or any of the other 64 parishes the fees and standards would be totally different.  This issue causes title companies to spend extra amounts of time researching the costs for each particular parish or estimating the costs and having to refund the client for any overages after the recording is complete. Sometimes the fees are underestimated and the title companies absorb the cost.
In short, the statewide recording fee schedule now states that to record a 1-5 page document, there is a flat fee of $100. 6-25 pages is $200. Over 26 pages is $300. The fee also includes 1 certified or e-certification copy. Cancellations/partial releases of mortgages, liens, and privileges are $50.
Not only does the bill call for standard recording fees and certified copies, but it also includes 10 indexed names where currently some parishes only include two names. Any additional indexed names were an additional cost. An indexed name is the buyer's / borrower's and seller's names that are listed on all the recorded documents.
What does this mean for the real estate industry? How will it affect the closing?  The downside is that a simple one page document such as a cash sale will now cost $100.00, but it does include the certified copy, and additional indexed names. On the upside, the cost to record is standardized throughout the state of Louisiana. No more estimations, over / under paying, or miscommunication on fees during the closing process.  For title companies statewide, this will accelerate the closing process and simplify the fees incurred during a closing transaction.  At Bradley Moreau Title we strive to make every closing a Smart, Simple, Stress-Free experience for our clients, and we feel that Act 173 will help us better provide that service to all of our clients, statewide.
Effective August 1st you will notice the recording fee changes in our closing costs.  You can always access our closing costs by contacting our office directly or on our free app. Click Here to Download it Now